Condor Magic, A Glimpse Of The Condor's Native Southwest
Paintings by Peter C. Stone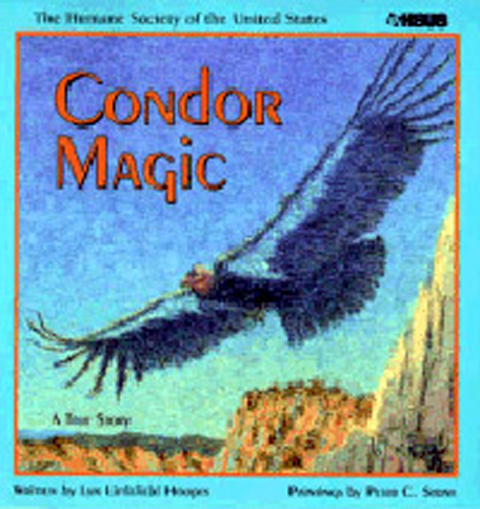 For several years, artist and author Peter C. Stone concentrated on a large body of work about the story of the California condor. Having painted in the Southwest during the '70's and '80's, and again in 1993, he was already familiar with the rugged terrain and blazing light.
In 1997 he collaborated with author Lyn Littlefield Hoopes (The Unbeatable Bread, Dial / Penguin) to create the children's picture book, Condor Magic (Benefactory), which was selected for the national literacy program "America Reads."
Their lyrical tale centers on the capture of the last few wild condors, how they were bred in captivity, and finally the successful release of the young birds north of the Grand Canyon. In a poetic yet unsentimental way, it also presents the inseparable relationship between man and creature so well perceived by Native cultures.
Inspired by this unique creature and stunning setting, the artist's themes have now been eloquently fused in an exciting exhibition of paintings and giclée prints.
Ordering Information
Available wherever books are sold. Please support your local bookstore. Or, you may order direct from:


Condor Magic may be purchased for sales promotions, corporate gifts, fund raising, or educational purposes. Please visit our sales terms page for more information or contact us for details.
View or order limited edition giclée prints in our gallery section, signed and numbered by the artist. Prints are museum quality reproductions on acid-free 140lb. recycled 100% Rag.
If you would like to discuss the purchase of other prints or original paintings in the book, please feel free to contact us.
Praise for
Condor Magic
About his work in Condor Magic, School Library Journal has called Peter C. Stone's intricately layered oil paintings "...dreamy..." and "...evocative..." Publishers Weekly has described them as "...sumptuous... Their impressionistic mood lifts the tale beyond the tactile into a nearly mystical realm: shadows of fingered feathers stretch across landscapes and clouds take on animal images..."
Written by Lyn Littlefield Hoopes / Paintings by Peter C. Stone
$12.95 Hardcover
ISBN 1-882728-95-5 / 10 1/2" x 10 1/2" / 32 pages
$5.95 Paperback
ISBN 1-882728-96-3 / 7 1/4" x 7 1/4" / 32 Pages
Binding: smythe-sewn
Published by The Benefactory, Inc.