The Symbolic Literacy Initiative & Aquaneers Pilot Education Program
The Art & Science of Coastal Ecosystems - Workshops With Peter C. Stone
Workshops: The Language Of Symbols In Living Systems | Symbolic Literacy Initiative & Aquaneers Pilot Education Program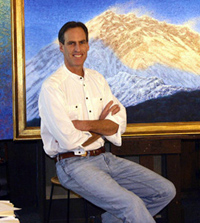 "In the end, we will conserve only what we love, we will love only what we understand, we will understand only what we are taught."
- Senegalese Proverb
Author, artist and educator Peter C. Stone has chronicled a lack of systems understanding and awareness of human roles in coastal ecosystems. These systems include watersheds, lakes, ponds, bogs, swamps, rivers, estuaries, barrier beaches, salt marshes, tidal flats, and embayments, as well as harbors, coves, bays and sounds.
Unfortunately, educational priorities in many schools do not allow for in-depth recognition or exploration of coastal ecosystems and the roles we play in them. Elementary, middle, and high schools have limited resources and initiative for programming that addresses these critical environments. Many teachers have commented to Peter about a decline in their students' sense of wonder for natural environments and their abilities to observe, record, and visualize systems relationships and principles in a larger context.
"It was amazing to first meet Peter Stone—and then learn more about art! I enjoyed the lecture discussions, the connections with science, the visual tension, the lights and darks, the many, many examples of symbolism ... I can now point out these techniques, moods, etc., to my students!"
Student-Teacher Comment, "Art Inspired By the Coast" Graduate Course, Connecting Oceans Academy, Ocean Explorium at New Bedford Seaport
The Symbolic Literacy Initiative Aquaneers Pilot Program engages students through art, science, mythology and the language of symbolism in living systems. It is inspired by the wisdom of indigenous traditions around the world whose stewardship of local land bases and languages of mythological symbolism have always supported and reflected each other.
SLI teaches practical methods to observe, explore, examine and explain the lands, waters, flora and fauna that sustain us, and that we, in turn, must restore and steward. Peter's inquiry-based presentations and workshops emphasize placed-based and project-based development of observation skills, mindfulness, journaling, and creative writing. The Aquaneers program meets (MA, RI, CT, NY) Educational Standards in Art, Science, and Language Arts and addresses skills used by all disciplines in the STEM/STREAM (Science, Technology, Reading, Engineering, Art, and Mathematics) model.
"It has been an eye-opening experience for me, an English teacher for over twenty-one years, to read some of the analytical insights that individual students have included in their own writing pieces as a result of what Mr. Stone shared with them. His visit was one of lasting memory."
Gina Despres, English Teacher, Old Colony Regional Voc. Tech. High School
Peter's work includes professional development STEM/STREAM content institutes for educators, and STEM/STREAM Art & Science Journaling workshops for lower, middle, upper school, university and graduate levels. He serves on the Art and Nature Committee of the Peabody Essex Museum; as Arts and Sciences Advisor for the Oceans Academy at the New Bedford Ocean Explorium; and as an Advisor to the Board of the Florida State University Coastal Marine Laboratory.
"It was the best professional development I have ever been to!"
"The workshops were quiet and calming, a wonderful experience."
"My students love to draw, the idea of journaling will allow my students to draw and write what they see, feel and experience in their own personal journals. I can't wait to get started!"
"Journaling will bring together the arts with the core subjects and students will be able to see the connection."
"A workshop that allowed the teachers to participate in a personal way, great ideas for middle school students - a way for them to "open up" in their own way."
Professional Development Workshop, Morton Middle School, 2013
Please contact us for details and booking information.
Workshops: The Language Of Symbols In Living Systems | Symbolic Literacy Initiative & Aquaneers Pilot Education Program