Sanctuaries, A Celebration Of Native Lands And Waters
Written & Illustrated by Peter C. Stone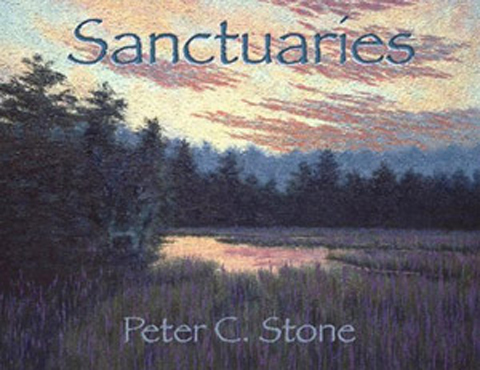 "...Mr. Stone's ability to match evocative words with evocative scenery is haunting..."
- Heartland Reviews
Passion for the spirit of stewardship... A celebration of Native lands and waters... A brilliant contribution for education and advocacy of land conservation.
A stunning portrait of Southern New England, Sanctuaries illuminates the region that is the Wampanoag Homeland. Peter C. Stone's mesmerizing narrative and paintings offer a historical perspective that is essential to understanding the importance of open space, while engaging the imaginations of both children and adults.
Transcending its regional background with symbolic images, Sanctuaries exults our relationship with our environment through those who have cherished it always.
Peter C. Stone is a former director of the Sippican Lands Trust and an active advocate of growth management and environmental awareness. As a writer and artist, he has concentrated on these archetypal themes of stewardship for over twenty years.
Ordering Information
Available wherever books are sold. Please support your local bookstore. Or, you may order direct from:


Sanctuaries may be purchased at special volume discounts for sales promotions, corporate gifts, fund raising, or educational purposes. Please visit our sales terms page for more information or contact us for details.
View or order limited edition giclée prints in our gallery section, signed and numbered by the artist. Prints are museum quality reproductions on acid-free 140lb. recycled 100% Rag.
If you would like to discuss the purchase of other prints or original paintings in the book, please feel free to contact us.
Praise for
Sanctuaries
"This is an extraordinary, spellbinding book. It transports the reader into a gorgeous and complex past."
- Gay Matthaei, author of The Ledgerbook of Thomas Blue Eagle, winner of the 1995 Christopher Medal
"...A gentle and inspirational picture book which is suitable for all ages, Sanctuaries truly and visually celebrates the joy and transcendence of life, growth, and love."
- Midwest Book Review
"...a series of lovely soft-focus nature paintings, enlivened by elegant prose... Stone speaks in the voice of the Wampanoag... His colors dance and shimmer; the images entice the eye and invite exploration... The awe is not simply at the beauty of nature's riches, but also at the grandeur and scope of time and the enduring presence of generations which are also strangely rendered in these images and poem-like words. The longer one studies these paintings, the more one sees, and the clearer one's mind feels."
- Fearless Reviews
Written & Illustrated by Peter C. Stone
$19.95 Paperback
ISBN 1-932133-50-X / 8 1/2" x 11" / 64 pages
26 Color Illustrations
Published by The Writers' Collective